Automotive
Automate your channel incentive programs from OEM to aftermarket.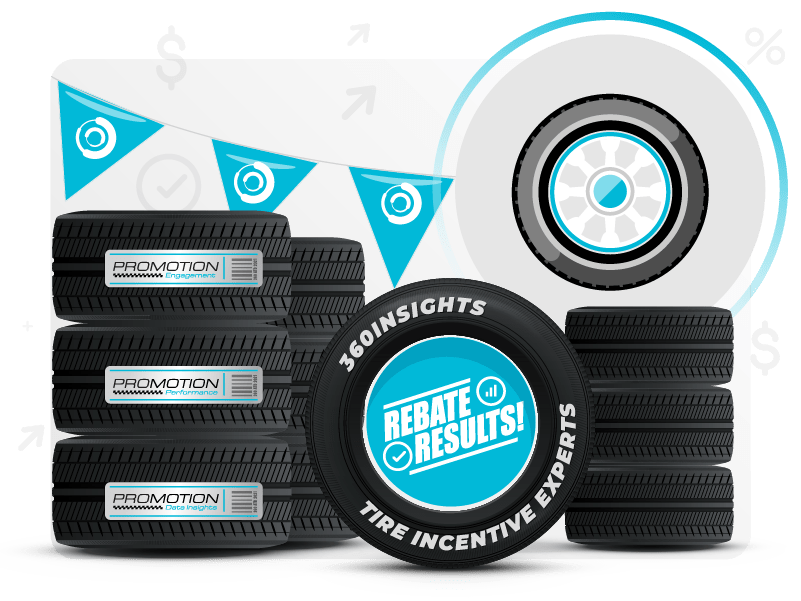 DEALER INFLUENCE
Tire Manufacturers
A recommendation from a dealer carries a lot of weight with consumers. And with independents holding a majority of the market share for replacement tires, it is critical to equip them with the resources they need to be successful.
With 360insights, we help you to get traction with dealers, both independents and national chains, through sales incentives and promotions. Impact consumer choice at the point of sale and time of install.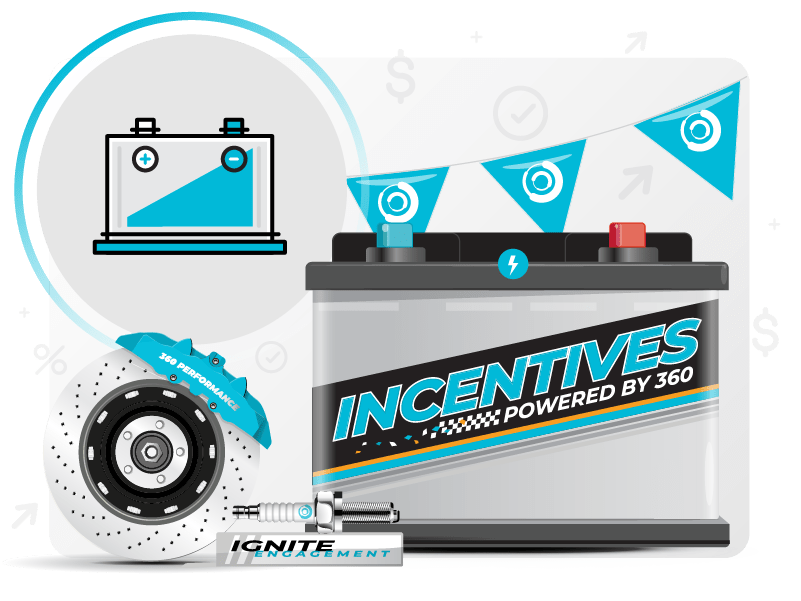 BRAND VISIBILITY
Aftermarket Parts Manufacturers
The aftermarket is going digital. Yet consumers are still demanding guidance, deep product knowledge, and technical expertise when selecting replacement parts.
With our flexible incentives management solutions, you can create a distribution advantage. Move your product on and off the shelf with incentives that encourage distributors and dealers to learn, advocate for, and sell your brands.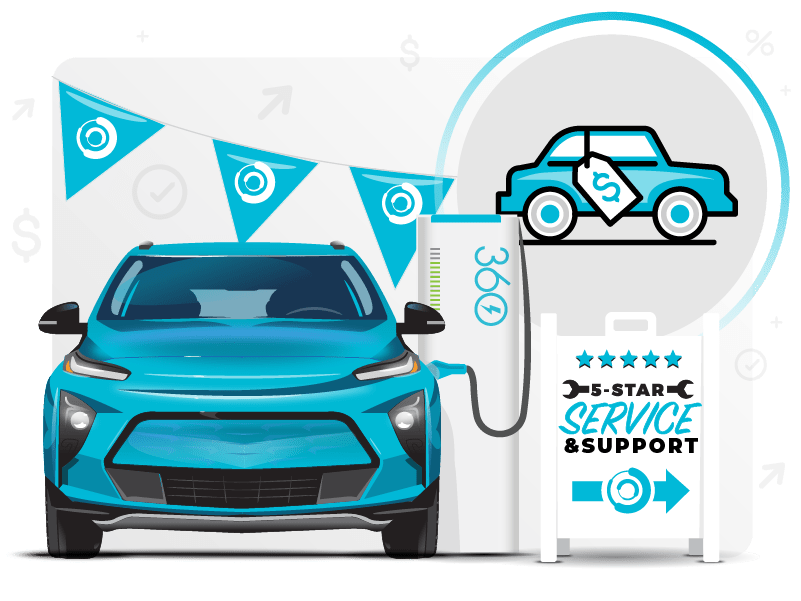 SALES INCENTIVES
Vehicle Manufacturers
Between 10-20% of your revenue is spent on tactical incentives. When those dollars are misallocated, it can have an adverse impact on profitability and growth.
We help car manufacturers take a data-driven approach to incentive spending. Move inventory, enhance services, and provide financial assistance to dealers to accelerate sales and boost profitability.
We Keep Your Partners Grounded so You Can Speed Ahead of the Competition
Create Loyalty
Turn passive purchasers into recurring customers by gathering customer data, promoting recurring visits, and incentivizing repeat sales.
Push the Product
Launch new products, promote higher margin products, or clear out end-of-life products through smart incentive spend.
Manage Demand
Synchronize inventory availability with demand through the use of consumer and B2B rebates and promotions.
Upsell Services
Take a warranty claim and service repair and turn it into an upgrade opportunity to higher-end product SKUs with incentives and promotions.
Support Dealers
Get traction with dealers through sales incentives and promotions that impact consumer choice at the point of sale and time of install.
Prevent Fraud
Verify program eligibility by gathering inputs from the brand and the consumer to pass/fail every claim received.
Explore 360insights in Action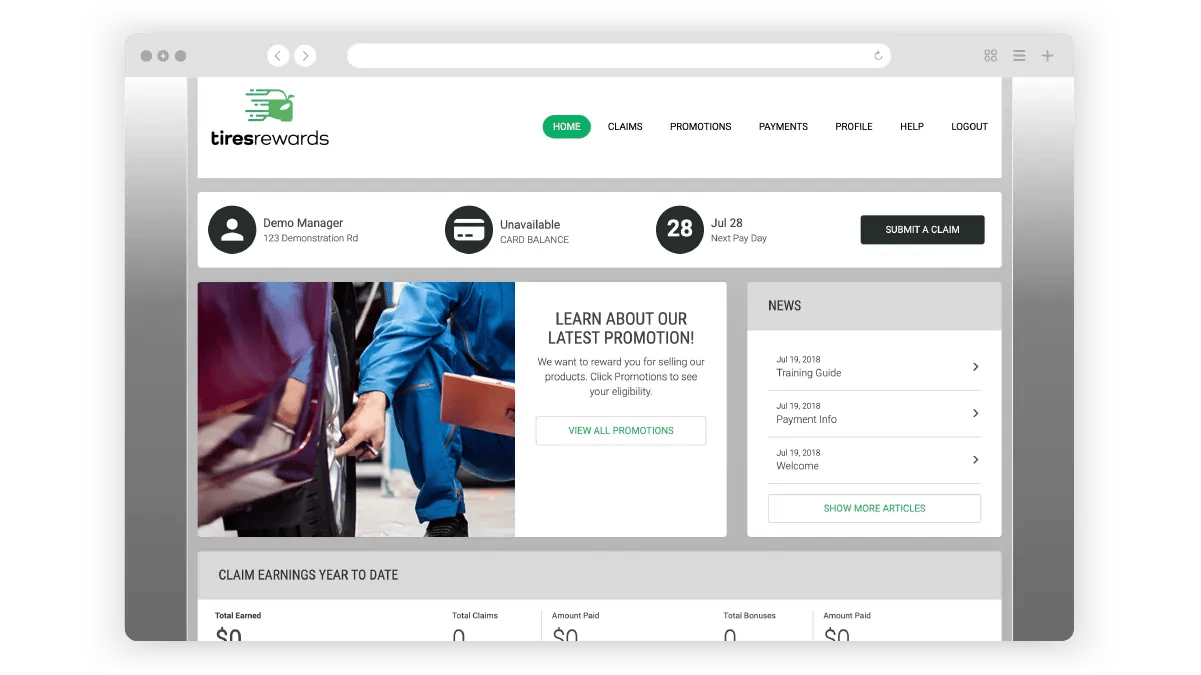 Custom dashboard. Access the status of all of your rebates and rewards in one place, on one single pane of glass. View your card balance, next payday, and upcoming promotions so you can get the biggest savings and best bang for your buck.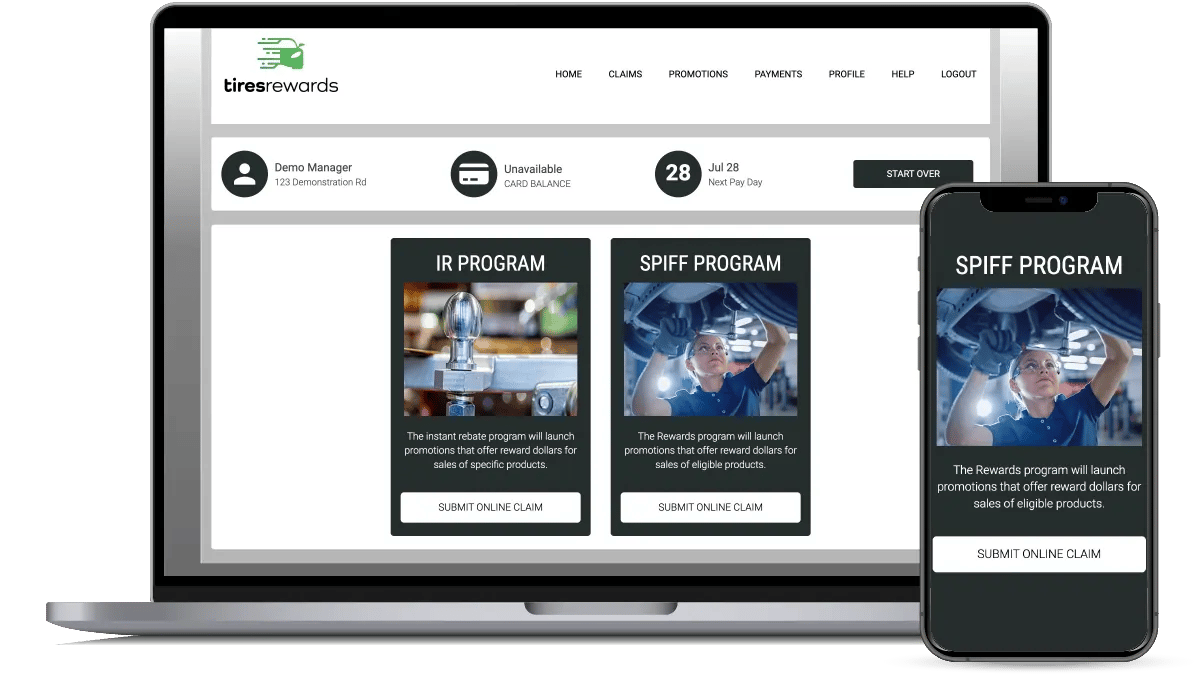 Rewards. Access our single, centralized rewards dashboard so you can view, submit, and monitor claims on your latest automotive purchases. Find the rewards program that's right for you to maximize your rewards dollars on eligible products.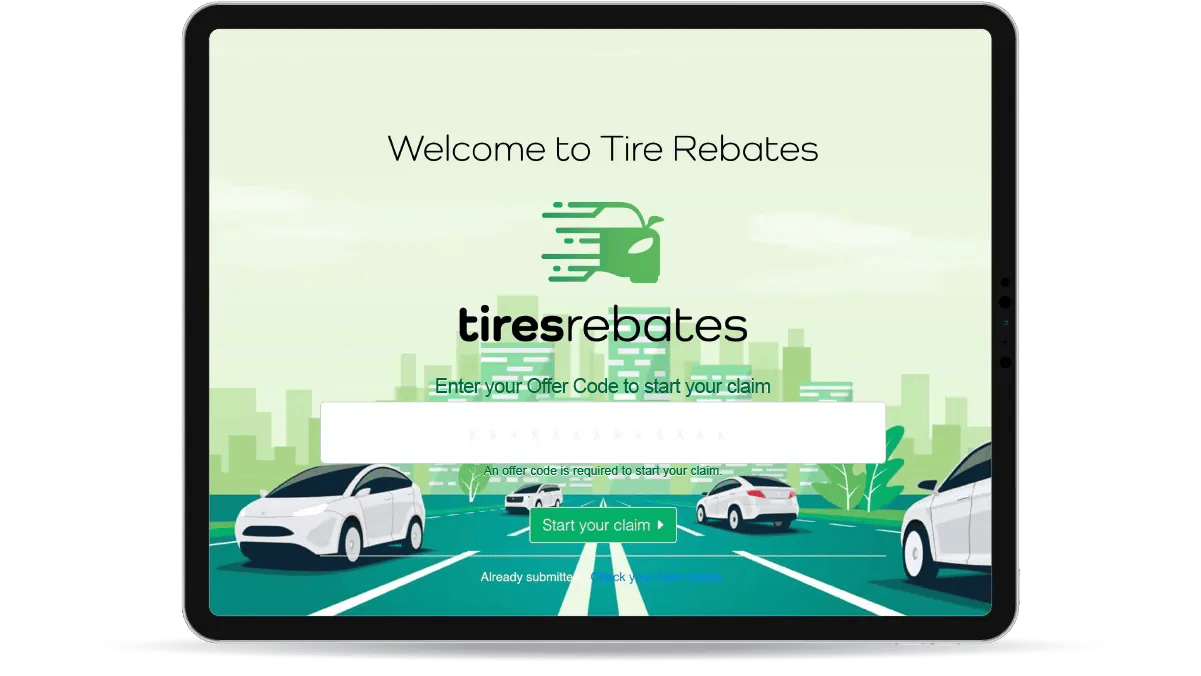 Rebates. To start a claim on your recent tire purchase, simply enter your offer code. Once you've submitted a claim, check back to view the status of your claim with ease.
"The 360insights team is incredibly helpful and responsive. Their high level of enthusiasm and support was truly outstanding."
Senior Program Manager
Large Automotive Manufacturer
"Since using the Channel Success Platform™, we have concluded that the business coming from loyal customers is far greater than the monetary cost associated with rebates and redemptions."
Mark Goldring
Commercial Manager, Apollo Vredestein
"360insights has facilitated our program, offering business solutions, marketing plans and engagement opportunities which have enabled the partner relationship to grow and become well-established. It has enabled us to deliver over and above on all key KPIs."
Jenny Scanlan
Senior Trade & Consumer Marketing Analyst, Pirelli
"Having all our incentives managed within a single platform gave us visibility into engagement and how each incentive influences various channel behaviors. We're just delighted by the overall result and we've got a platform we can build all out incentive programs on going forward."
VP, Dealer Sales and Marketing
Large Automotive Manufacturer
"Working in partnership with 360insights, they helped us to deliver our rewards program, to encourage customer retention and loyalty, which has been a resounding success. 360insights have been nothing short of fantastic to work with. Every member of the team have a 'can do' attitude which is testament to their products successes."
Dan Bentley
Digital Marketing Manager, Stapleton's (Tyre Services) Ltd.
Gain Mindshare from Your Distributors, Retailers, Car Dealers, and Consumers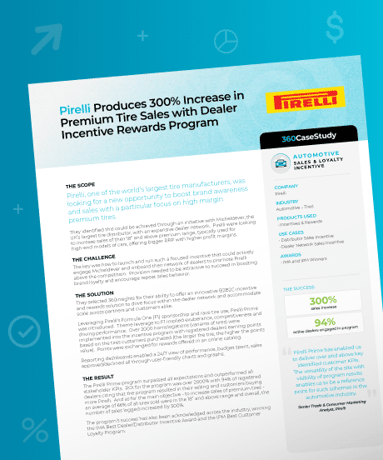 Case Study
Automotive: Pirelli Points-Based Reward Incentive
Pirelli is one of the world's largest tire manufacturers, but the sales environment is competitive and market share is in demand.

To boost awareness and visibility of their brand, keeping at the forefront over their competitors, Pirelli sought to launch a points-based program
with their biggest tire distributor with a large dealer network, to incentivize sales performance of their premium tire range.
Learn how 360insights delivered an award-winning program, achieving impressive ROI.