B2B Rebates
Provide financial incentives for partners to buy more, sell more, and earn more.
Build Brand Loyalty and Drive Sales Growth
Motivate partners with back-end pricing discounts that turn into long-term value.
increase in sales YOY
(360insights customer)
program participation rate
(360insights customer)
avg off-invoice leakage
(source: Bain & Company, Pricefx)
Encourage Higher Volume Purchases
Drive incremental sales. Provide a financial incentive for your partners to sell more based on the volume, total value, or growth rate of products purchased. And turn your incentives into strategic goals for how you package and bundle products. A little extra incentive can quickly add up to significant growth.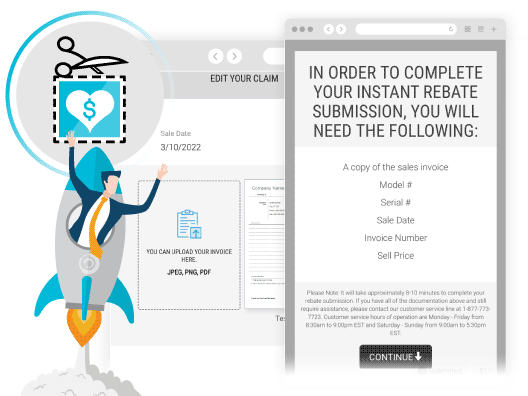 Increase Purchases at the Point-of-Sale
Sometimes you need a little extra incentive to purchase. Use instant rebates to deliver a discounted price for customers and a predictable payout process for partners as you launch new products, test new pricing strategies, or move inventory. Provide value to the customer and build a relationship with your retailers.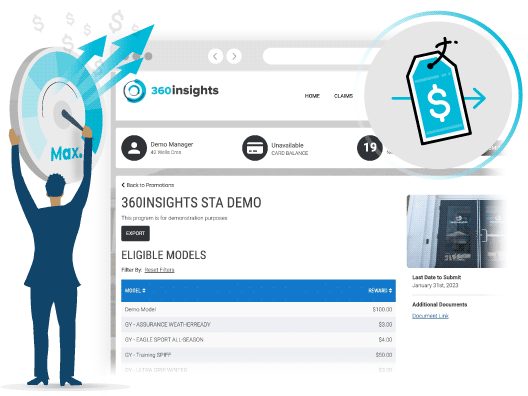 Manage Your Sell-Through Rate
Grow sales and protect margins. Use sell-through allowances to provide discounts off the sale price, once a product is sold, and let your dealers recoup funds to improve their bottom line or double down on growth. Take control over how your products are distributed and give dealers more motivation to buy and sell your products.
Grow Your Business

with Strategy and Intention
Ensure Partners Prioritize Product
Give your partners visibility into recent transactions, see qualification status, and understand what it would take to secure an even larger payout.
Reduce Rebate Calculation Errors
Automate the rebate calculation and payout process, freeing up finance teams and reducing the chance for human error.
Customize Payouts by Program
Tailor the parameters for the rebate program and immediately begin tracking and scoring sales data against these parameters.
Track Payout to Performance Ratio
Companies can track payouts against overall revenue, see how a program is performing in the market, and easily tweak program funding and/or offers.
Improve Rebate Reporting
Ensure auditory compliance and adherence to financial reporting standards through up-to-date access to rebate information and accruals.
Build Trust with Partners
Pay your partners faster and give them complete transparency into the process to increase their confidence in and commitment to your brand.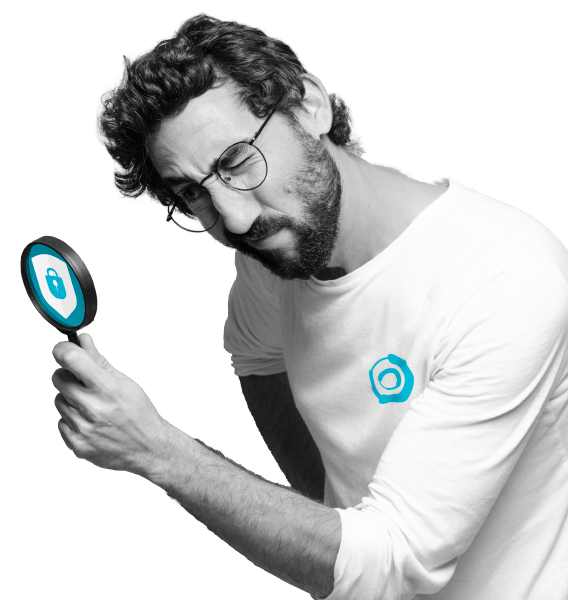 Mitigate Risk Without Sacrificing Experience
Processing rewards is just the beginning. We audit claims, reconcile payments, and analyze transactions so you don't have to.
With an unmatched combination of audit, analytics, and expertise, 360insights protects your business by detecting and responding to fraud without impacting valid claims or compromising the experience. More than a platform, it's a partnership.
Loved by the World's
Best Brands
Become an Expert
Learn the ins and outs of what motivates business buyers.